Progressive lessons are for children ages six and up
Sessions and Registration Dates: 
       Winter I Session: January 9th - February 18th
       Winter II Session: February 27th - April 15th (Spring Break March 13-18) 
Private Swim Lessons: 
       One-on-one swim instruction tailored to your needs. Half hour sessions. Contact Jacque Petersen for more information at 641-422-5995.
---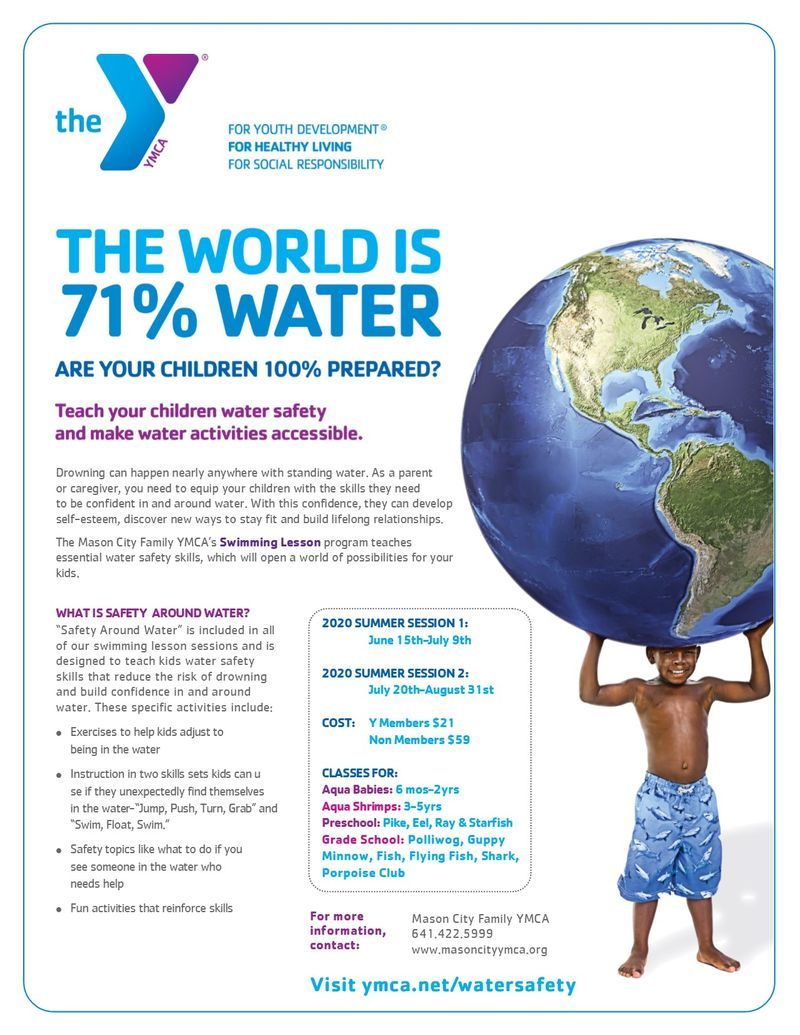 ---
Polliwog
This is the beginning level for school-age children, which acquaints them with the pool. By the end of this level, they should know their front and back floats, master paddle stroke and over-arm recovery stroke. Children also learn the survival float and treading water.
*Pre-requisite: None
Guppy
Children in this level continue to practice building upon basic skills: master paddle stroke, treading water, survival float, etc. They are also intruduced to front crawl and back crawl.
*Pre-requisite: Polliwog (or Aquatics Director approval)
Minnow
This is the initial intermediate level. Children refine their front and back crawl/ strokes and their skills become more like those normally used in swimming. They start to learn their breaststroke, kick and diving skills.
*Pre-requisite: Guppy (or Aquatic Director approval)
Fish
At this point, participants work to perfect the front crawl, elementary backstroke, back crawl, breast stroke kick and butterfly kick.
*Pre-requisite: Minnow (or Aquatic Director approval)
Flying Fish
At this advanced level, participants work on open medleys, front crawl, back crawl, butterfly and breaststroke. Students will also tread water and survival float longer to increase their endurance. 
*Pre-requisite: Fish (or Aquatic Director approval)
Shark
Participants at this level continue to improve their strokes with starts, turns and dives. They will also learn the sidestroke and the lifesaving medley. Basic first aid and treatment for shock are also taught.  
*Pre-requisite: Flying Fish (or Aquatic Director approval)
Printable Version: Youth Swim Lessons