A Y membership is a great value. We offer a wide variety of programs and classes (many of them included with your membership) and a caring staff to help members of all ages grow in spirit, mind and body. Plus, when you join the Y, you're joining an organization that is committed to strengthening our community together.
---
My Y is now Every Y with Nationwide Membership
Another  great reason to belong to the YMCA -- Now, "My Y" is EVERY Y !
Over 95% YMCA in the U.S. are participating in Nationwide Membership! You can visit a YMCA in another city or state, and check in with their front desk!
We want to encourage members to utilize the Y as often as they can. Sometimes, it's more convenient for members to utilize a Y in a different location when traveling, near a workplace or in another region.  Now YMCA members have the flexibility to use other Y facilities throughout the country, at no extra charge.
How It Works
Simply present your active YMCA membership card and photo ID at any of the following YMCAs and enjoy free access. Upon your first visit you may need to complete a visiting member waiver form with liability waiver.
There is no limit on the number of visits as long as your home Y is the majority of your visits. Member discounts do not apply at visiting YMCAs.
Participating YMCAs reserve the right to restrict facility or program access. Other restrictions may apply. Contact the local Y for their policy.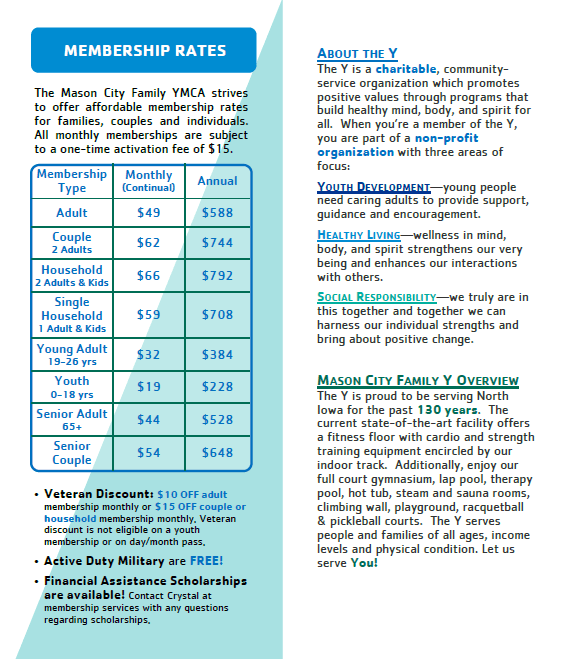 ---
Basic Membership Includes:
• Programs for the whole family, plus special family events
• Membership Reciprocity to all Iowa Ys
• Free and reduced prices for all adult fitness classes
• Priority program registration, including convenient online registration
• Reduced rates on programs, including youth sport, swim lessons and much more
• Access to on-site childcare, Child Watch, while you workout (small fee applies)
Visit us today to find out more about all that the Y has to offer you and your family!