---
Pick-Up Basketball
Adult Pick-Up Basketball is all about competition, exercise, developing a healthy lifestyle and having a great time! All adults and skill levels are welcome.  Adult Pick-Up Basketball is open year-round!
Monday/ Wednesday/ Friday
Noon - 1:00 pm 
NEW!  Not a member?  No problem!  Only $3 to play, or buy a 12x Punch Pass for $30 to participate in this friendly Pick-Up Basketball League!  
---
Pickleball
September-May when the weather does not cooperate to play outside, come to the Y to play Pickleball!
Come out and join a game that combines tennis, racquetball, ping pong and squash. Pickleball is a great way to combine fun and fitness. 
Pickleball is played on a court with the same dimensions as a doubles badminton court. The net is similar to a tennis net, but is mounted two inches lower. The game is played with a hard paddle and a smaller version of a wiffleball. A pickleball ball typically moves at one-third of the average speed of a tennis ball and the court is just under one-third of the total area of a tennis court.
Originally invented as a backyard pastime, pickleball is now an organized sport represented by national and international governing bodies. We kick off pickleball in the colder months when folks are unable to play outside.
Monday:  9:00-11:45 a.m.
Tuesday: 11:30 a.m. - 2:30 p.m.
Wednesday: 9:00-11:45 a.m.
Thursday: no pickleball on Thursdays
Friday: 9:00-11:45 a.m.
*times are subject to change. Pickleball will be outside when the weather is warm and dry, and in the summer while Summer Day Camp is at the Y.
For local pickeball information, visit their facebook page - https://www.facebook.com/groups/MasonCityPickleball/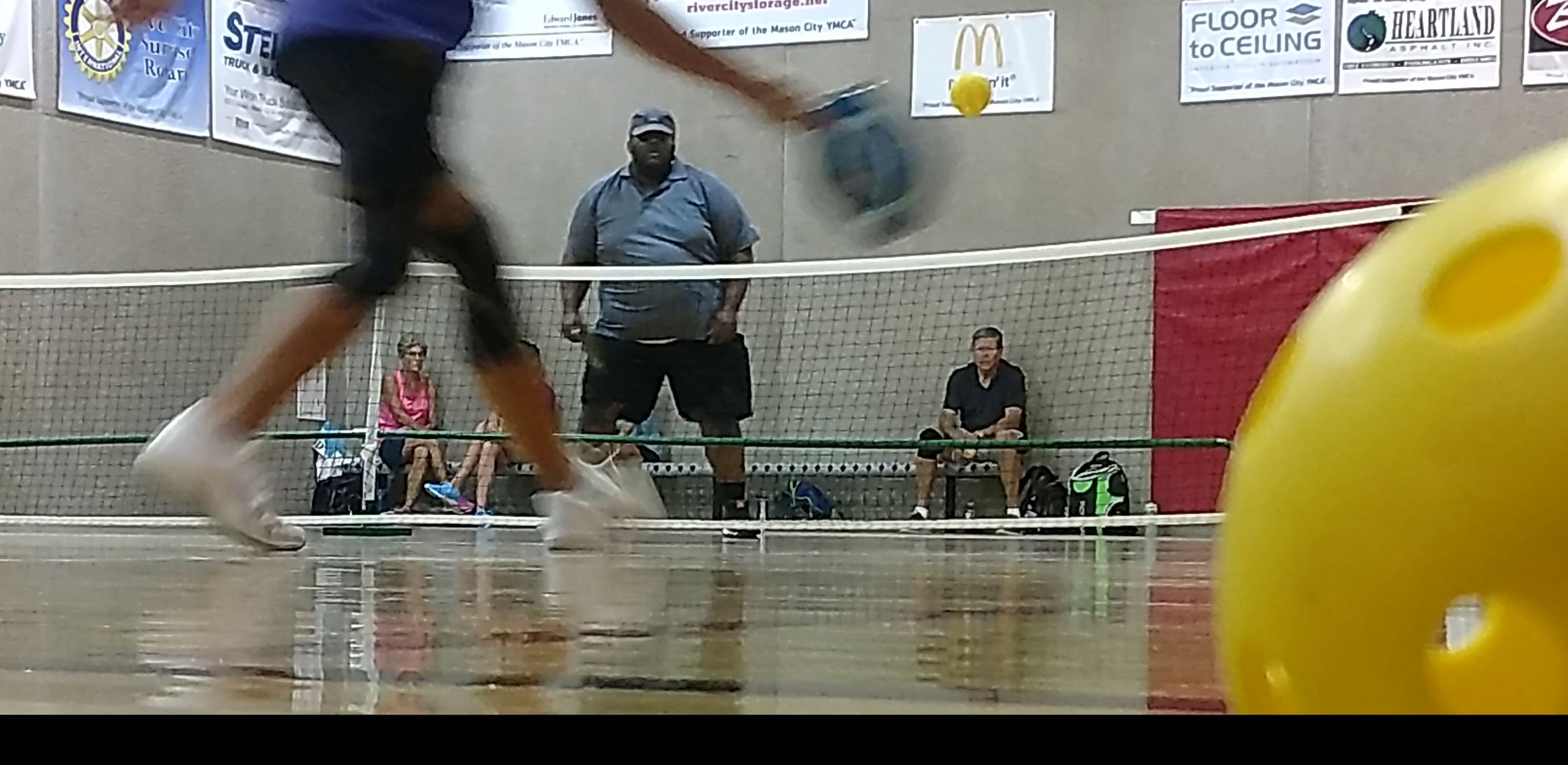 ---
Learn to Play Racquetball
Did you know some of our Y members are racquetball experts?  Learn to play from these enthusiasts, then reserve a court of your own any time during business hours!  We hope you enjoy this fast-paced sport.  No registration required.
1st and 3rd Saturdays, 10:00 a.m.
---
Printable Version: Adult Sports