Group Exercise Class Descriptions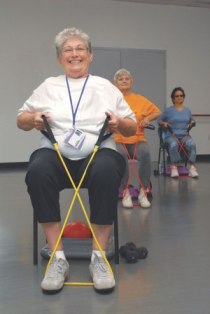 Active Older Adults
Hand held weights, elastic tubing, and small balls are used for resistance to strengthen muscles. This class is done seated in a chair and or standing using the chair for support. Improve flexibility, muscle strength, and have fun in this challenging co-ed workout for active older adults.
---
Tone & Stretch
Push your body with 45 minutes of toning and flexibility work in a group setting. This class is designed to strengthen various muscle groups using hand weights, resistance bands, and stabilization techniques. This class is designed to enhance everyday movement for people of all levels of fitness.
---
Tabata
Looking to change up your exercise routine? Want a quick and intense workout? Tabata is an interval training cycle of 20 seconds of maximum intensity exercise, followed by 10 seconds of rest, repeated without pause for eight cycles. Enroll in Tabata class once a week to enhance your fitness!
---
Boot Camp
Fun work - Hard play! This class will rev up everyone from beginners to the most avid exercisers. Endurance activities, drills, intervals, circuits and obstacle courses are just of a few of the fun activities used to train the entire body for serious results.
---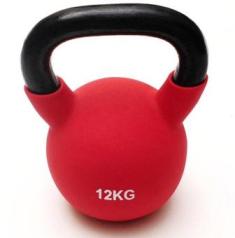 Kettlebell
Master kettle bell technique and form in this 30 minute class that focuses on setting up the basic moves of kettle bell momentum training. As you continue to learn basic technique and form you then take your kettle bell skills to the next level. Learn to more advanced techniques like using two kettle bells at once and engage your entire body at all times. Sculpt your muscles and burn fat all while getting a great conditioning workout.
Offered only at the Briane Crane Family Healthy Living Center
---
Extreme Circuits
Short on time and not sure what to do? Each component of an Extreme Circuits workout provides a uniquely different emphasis or system response, so your body never gets accustomed to the constantly changing format. High intensity circuits that will push you to your limits and strengthen your stamina, endurance, flexibility and balance. Be prepared to work! Appropriate for all fitness levels.
---
Totally Toned
Boost your metabolism and rock your core with 45 minutes of strength training in a group setting. Feel good about your workout, regain the passion and enjoy yourself as Judy takes you through exercises designed to increase your fitness levels. Appropriate for all fitness levels.
---
Zumba Step
Forget everything you know about step class! Introducing Zumba Step: All of the step toning and strengthening for you legs and glutes, plus all of the Zumba Fitness party fun that you love!
---
Zumba
Ditch the workout and join the party! Zumba is a dynamic, danced-based class set to the fusion of Latin and international music. You'll move through a combination of fast and slow rhythms to tone and sculpt your body. Easy to follow, repetitive dance steps make this a fun workout and the time will fly!
---
Group Indoor Cycling
Get in gear! Our inspiring instructors will lead the class on a journey through mixed terrains (hills, flats, mountain peaks, time trials and interval training) to the rhythm of powerful music. By increasing or decreasing tension on the fly wheels, you control the intensity of your ride, making this class suitable for both new and experienced riders.
Offered at the Main Y & Brian Crane Family Healthy Living Center
---
Mat Pilates with Props
Various props such as bands, light weights, and balls are incorporated to enhance and intensity this Pilates workout. Participants will learn to be aware of breathing patterns and spinal alignment while engaging the deep muscles of the core. With regular attendance, participants will experience increased core strength, flexibility, balance and stamina.
---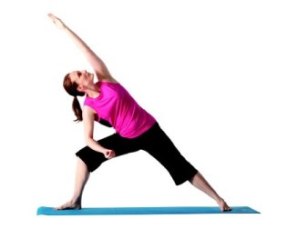 Yoga
Make true relaxation a reality in your life. All body types and skill levels are encouraged to participate. These poses are safe and gentle, yet challenging enough to encourage stronger muscles and bones, while simple relaxation techniques release tension from the mind and body.